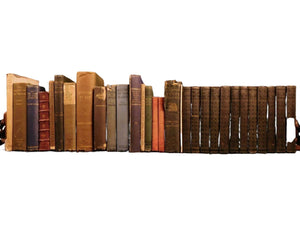 Antique 1800s Fine Book Collection Huge Lot, 30 Books,Wells,Charles Dickens et al!!
Antique 1800s Fine Book Collection Huge Lot, 30 Books,Wells,Charles Dickens et al!!!!!
A fine collection of literature of 1800s HUGE Lot of 30 BOOKS HG Wells Charles Dickens Ebers Egyptian Princess!!!

A fine collection of literature including works by H.G. Wells, 'An Egyptian Princess' by Ebers, and 'Dr. Syntax's Tours' by Dickens. A huge lot of books!

Main author: Johann Georg Lairitz
Title: Exercitatio historica de Calixtinis posterior, quam praeside Jo. Georgio Layriz, ... in illustris collegii Christian-Ernestini acroaterio majori, d. Jan. anni MDCLXXIX, defendet Jo. Christophorus Schamel, ...
Published: (s.l: s.n), [1679]
Note: pamphlet

Main author: Anthony Trollope
Title: He Knew he was Right
Published: London: Strahan and Co., 1869.
Note: volume 2
Main author: Wyndham Lewis
Title: The Old Gang and the New Game
Published: London: Desmond Harmsworth, 1933.
Main author: Georg Ebers
Title: An Egyptian Princess
Published: Leipzig: Bernhard Tauchnitz, 1871.
Main author: Anna Wilkes
Title: Ireland: Ur of the Chaldees
Published: London: Trubner & Co, 1873.
Main author: William Combe
Title: Dr. Syntax's Three Tours…
Published: [London: Chatto and Windus, ca. 1875]
Note: lacking title page
Main author: E.V.B.
Title: A Garden of Pleasure
Published: London: Elliot Stock, 1895.
Main author: Jessie Weston
Title: The Legend of Sir Perceval
Published: London: David Nutt, 1906.
Main author: Charles Ellis
Title: Richmond and other poems
Published: London: Madden and Macmillan, 1845.
Main author: John Clarke
Title: Sketches in the Life of John Clare
Published: London: Cobden-Sanderson, 1931.
Main author: Graham Greene
Title: Stamboul Train
Published: London: William Heinemann, ca.1900.
Main author: P.G. Wodehouse
Title: A Damsel in Distress
Published: London: Herbert Jenkins, ca. 1900.
Main author: A.G. Hales
Title: McGlusky the Trail Blazer
Published: London: Hodder and Stoughton, ca.1900.
Main author: William White
Title: Baconia
Published: London : Robert Banks, ca.1900.
Main author: Samuel Pepys
Title: The Diary of Samuel Pepys
Published: London: Bell and Sons, 1902.
Note: volume I
Main author: Charles Dickens
Title: Sketches by Boz…with fort illustrations by Cruikshank
Published: London: Chapman and Hall, 1867.
Main author: H.G. Wells
Title: Works of H.G. Wells:
Published: London, 1933.
Notes: 13 volumes
Works include:
In the Days of the Comet
Marriage
Joan and Peter
Tono-Bungay
Christina Alberta's Father
Mr. Blettsworthy on Rampole Island
World of William Crissold (2 volumes)
A Short History of the World
The Open Conspiracy and other Writings
Meanwhile, The Picture of the Lady
Mr. Britling Sees in Through
The Soul of a Bishop and three short stories
FREE SHIPPING WORLDWIDE
Wear: wear as seen in photos
Publisher: above
Wear and imperfections commensurate with age and use.
     "Old World Elegance at Reasonable Prices!"
---